Our Team
With a knowledgeable and experienced staff, the Spects team strives to assist you with all needs. Meeting with a Doctor, understanding your insurance coverage, offering opinions of styles that suit you, repairing your current eye wear, or even going out of our way to deliver product to you … we are determined to have you "see the difference spects make"
Vision Statement
To be your family's trusted partner for all visual needs. By focusing on your health and better outcomes, not how many different pairs of glasses we can get you, we aim to offer a relaxed and friendly consultative environment.
Mission Statement
By taking the time to understand of our patients' lifestyle, and offering specific advice in a personalized setting, we want you to see the difference spects make!
About Jessica Waller – Owner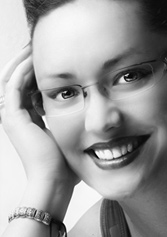 With over 10 years experience in the optical field, Jessica has proven to show passion for eye care and bettering how people see the world. Graduating with Honours from Georgian College, she managed Hakim Optical locations, was involved single-handedly in their growth through the opening & training of new locations, and was a responsible for overseeing quality control in their customer service through various regions.  The experience in the retail, lab, and management environments allowed her to learn all the intricacies of the business. Jessica takes great enjoyment in learning about and connecting with each patient, as she helps them select options that are perfect for their needs.  She invites you to come on in and see what she can do for you!
Professional Staff
In-house Eye Doctor
Opticians
Drilling specialist
Lab & repair technicians
Style Consultants
---
Understand the difference in service professionals:
Optometrist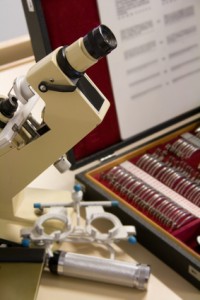 An Optometrist is the eye doctor that performs examinations to determine your prescription requirements and checks the health of your eyes. They assess and treat external eye diseases and will refer internal diseases to Ophthalmologists
Licensed Optician
A licensed Optician is like the Pharmacist of the optical world. They fill prescriptions given by an Optometrist, with visual aids such as eyeglasses, contact lenses, sunglasses, etc. They design, prepare, dispense, and repair these optical aids. Licensed Opticians are advocates for your eyes. They make sure that your eye care options are both current and safe. They provide council about your eye health, in collaboration with Optometrists and Ophthalmologists.
Ophthalmologist
Ophthalmologists are medical doctors that specialize in performing eye surgery. They assess and treat internal eye diseases such as cataracts, glaucoma and macular degeneration.
All three professionals work together to give you, the patient, the best eye care possible.